"Fuck suicidal thoughts, deicidal thoughts are the hot new teen trend." - Me
Winter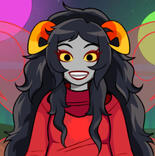 Despite everything, it's still me.
---
Winter/Phoebe

Nonbinary transfem

White

Pronouns: she/her, occasional he/him appreciated from friends

20, bday Feb. 10

Neurodivergent; autism+adhd maybe
---

Things what I like
---
Sometimes hyperfixations reactivate out of nowhere it's great it's like I'm an autistic sleeper agent.
---
Magic: the Gathering

JoJo's Bizarre Adventure

Pokemon

Chainsaw Man

Homestuck/Vast Error

Comics

Communism

Most music

Animals

Soulsborne

Various animated series
---

Mr. Gorbachev Drop The Kinlist
---
i think i mostly want to see what happens when this whole place breaks apart
-Me, about to write this

Bold are like, full kinnie moments
Italics are semi-kinnie moments
Normal is just characters I like
No the order doesn't mean anything
---
Arcjec Voorat (Vast Error)

Sestro Enthal (Vast Error)

Jentha Briati (Vast Error)

Aradia Megido (Homestuck)

Polypa Goezee (Hiveswap Friendsim)

Susie (Deltarune)

Josuk8/Gappy (JoJo's)

Catra (She-Ra)

Futaba Sakura (Persona 5)

Goro Akechi (Persona 5)

Marceline (Adventure Time)

Lapis Lazuli (Steven Universe)

Reigen Arataka (Mob Psycho 100)

Ryuko Matoi (Kill la Kill)

Power (Chainsaw Man)

Killua Zoldyck (Hunter X Hunter)

Princess Carolyn (Bojack Horseman)
---

Do Not Interact
---
If any of these describe you, it'd be really great if you could never interact with me in any way k thx
---
lgbtq+ phobic (incl. biphobia, lesbophobia, ace/aro exclusion, transmisogynists, TERFs, transmedicalists, etc.)

pedophiles and pedophile apologists I hate that I have to say this

Assorted bootlickers and capitalists

racist, ableist, antisemitic, Islamophobic, etc.
---